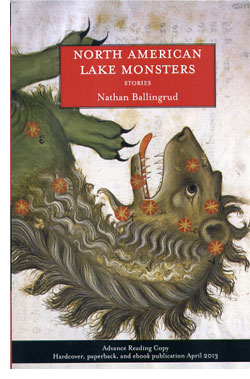 Nathan Ballingrud
North American Lake Monsters
Small Beer Press
US Hardcover First Edition
ISBN 978-1-618-73059-6
Publication Date: 07-18-2013
209 Pages; $24
Date Reviewed: 01-15-2014
Reviewed by: Rick Kleffel © 2014


Index: Horror General Fiction Fantasy

Nobody needs to look too far to see a monster. We all know the drill, which is to say that we all probably know someone who qualifies as a monster. Some may need look no farther than the mirror.

In 'North American Lake Monsters' Nathan Ballingrud demonstrates the power of portrait. He gives us people so real that though they may be unpleasantly so, they are nonetheless compelling. We are immersed in their very real lives and very intense stories before they encounter the fantastic, so deeply captivated by character, that the strange is brushed aside. But not without consequence.

It's a slim book, with only nine stories, but buy it in hardcover, because you'll be re-reading them again and again. Ballingrud's powerful prose never lets go even after you've finished reading his tales, and his disturbingly realistic characters come to reside in your mind. Take this book slow, allow some time between reading the works here. The impact is palpable and lasting.

In "You Go Where It Takes You," Toni is on the road with her young daughter Gwen, when she meets Alex, a man who is much more than he appears to be. Balligrud never lets us know exactly what he is, but it's hard enough finding out exactly what Toni will do; would-wrenching but, and here's what's hard to take, not unexpected. Ordinary humans have dark depths that can easily surface.

In "Wild Acre," Jeremy is working with some friends at the edge of civilization when he witnesses something that should not, could not be; and he does nothing to stop it. He finds that he is forced not only to live with the memory of the horrific and the impossible, but, more impossibly, with the memory of his inaction. Ballingrud takes a classic riff of the fantastic but twists it in an unexpected and angularly modern manner that captures the open-ended, unending nature of regret.

The stories here are all powerful and intense. Ballingrud's prose is carefully stripped down, easily read, but sinewy and with a level of gritty detail that keeps his work extremely grounded. His focus on character, and in particular, characters who are outside the usual purview of fiction, enable him to immerse us in minds and lives that we might not wish to see but are rendered compelling by virtue of the quality of his writing.

The title story is a great example. Grady's out of jail and he's trying to connect with now-teenage daughter. But he's not good at it, and he's not so interested in connection as a father is supposed to be. His wife, Tina, had an affair while he was in jail, and he should be more understanding, but he's quite inclined to get stinking drunk instead. When his daughter disappears and finds something beyond all experience, it leaves traces that cannot be washed away. Ballingrud's bad father, unfaithful wife and surly teenager manage to be off-putting and poignant, and the fantastic notion in the title offers up a mystery that is disturbingly real without easy resolution.

Every story here is equally intense and equally compelling, nine bloody accidents from which we cannot let our eyes, our minds escape. Ballingrud is a master of unease, and more importantly, of examining Americans as they are today and crafting portraits that are anything but pretty. But they are deeply compelling. 'North American Lake Monsters' is unique. It's terrifying but it is filled with a terrifying kind of love. We are this, and in order to show just what this is, Ballingrud must bring out the nightmares and make them real.