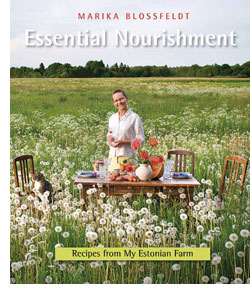 Marika Blossfeldt
Essential Nourishment: Recipes from My Estonian Farm
Delicious Nutrition
US Large-Format Paperback First Edition
ISBN 978-0-615-42927-4
Publication Date: 10-01-2011
304 Pages; $34.99
Date Reviewed: 05-09-2012
Reviewed by: Rick Kleffel © 2012


Index: Non Fiction

What sort of formula can fall under the rubric of "recipe"? We typically think of a list of foodstuff ingredients, followed by directions for combining, then cooking them to prepare some sort of "food." But the commonly used phrase "recipe for success" suggests that we can cook up a lot more than a meal, and it is perfectly true. Marika Blossfeldt's 'Essential Nourishment: Recipes from My Estonian Farm' offers up a lot of the sort of recipes you can cook up in your kitchen, all of them quite easy and delicious. But the book itself is a sort of recipe for nothing less than a better life.

The first thing you'll notice when you pick up 'Essential Nutrition' is how heavy it is. This is a beautifully produced book printed on thick, glossy stock, and once you open it up, the reasons will become quite clear. It's filled with gorgeous, spacious art and photography. Even if you're not at all interested in the recipes or the food and lifestyle suggestions, the photos and paintings are well worth the price of the ticket. Moreover, the book's design seems essential to the message and the impact it has. It says that life and food can and should be beautiful. Browsing the pages is a relaxing experience.

Once you get to the text, you'll find the book is divided into two sections. The first part consists of what I would call recipes for life. This is further divided into "Nutrition and Nourishment" and "Lifestyle." "Nutrition and Nourishment" is a well-written and concise summary of what we know and need to know about the food we eat. There's a bit of Michael Pollan here, a bit of Mollie Katzen there, and a smooth, straightforward prose style that gives readers an executive summary on matters such as food labels, blood sugar, oils, food cravings and even water. It's easily read and helpful advice that informs your shopping decisions. The section on oils was particularly concise and informative.

Lifestyle advice comes from all over the ethnological map. Blossfeldt is a certified kundalini yoga teacher, so you'll find advice from that perspective here, as well as thoughts about relationships, eating out, working and exercising. Blossfeldt's brevity serves her purpose perfectly. The expansive layout and beautiful art direction do so as well.

The bulk of the book consists of recipes, organized by type. Blossfeldt doesn't overdo it. There are a number of sections, and each section contains a few recipes — not too many, just enough. The recipes themselves are generally quite simple, sometimes alarmingly so. But don't let that fool you. "Roasted Root Vegetables," for example, looks delicious in the photo, and is as easy to make as the five simple steps suggest. It's also a hearty meal, full of flavor, but not heavy. "Chilean Bean Stew with Corn" is equally easy, and just as good.

For my money, the "Russian Kale with Raisins and Roasted Pine Nuts" is a favorite. It looks great and works well as an entrée. The recipe as given is a perfect dinner for two. While the preponderance of recipes here are vegetarian, there are recipes for chicken, salmon and shrimp. The book finishes with desserts, drinks, teas, berries and yes, even cacao — chocolate —gets a page.

Given the beautiful paintings and design, 'Essential Nutrition' can serve as both coffee table book and cookbook. You can dip in for a brief primer on oils, then breeze through to an easy recipe (4 steps) for "Black Bean Soup." You could easily live out of the recipes in this book for a month; Blossfeldt includes breakfast in the mix. If you are looking for a cookbook that satisfies on a number of levels, a book that itself is a recipe, then 'Essential Nutrition' is an essential choice.