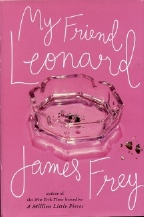 James Frey
My Friend Leonard
Reviewed by: Rick Kleffel © 2005

Riverhead / Penguin Putnam
US Hardcover First Edition
ISBN 1-573-22315-8
Publication Date: 05-06-2005
357 Pages; $24.95
Date Reviewed: 07-20-05
Index: Non-Fiction General Fiction

When last we saw James Frey, at the end of 2003's 'A Million Little Pieces', he was headed out of the rehab clinic and into jail. His first memoir was a dark hard-boiled look at life beyond drugs and beyond the rules of the rehab clinic. Frey broke every rule of Alcoholics Anonymous and still he succeeded, against the odds. He forged friendships in rehab that would clearly last beyond. His closest friend was Leonard, a highly placed mobster who came to call Frey, "My son."

'My Friend Leonard' picks up where 'A Million Little Pieces' left off in time and in tone, but it effectively stands alone as a testament to a pure love between two men, forged in rehab, a friendship that stands the tests of love, death, failure and success. If you've read the first book, then you'll want to find out what happens. If you haven't, then 'My Friend Leonard', with a wider slice of life, is a great place to start. This is a book that packs the power of a novel and has the veracity of life lived at a variety of levels, from street squalor to the middle class to Hollywood glitz. Frey manages to evoke tears and laughter, offering a range of emotion that readers just don't expect from a book that begins with a fistfight in jail.

Frey pulls no punches as he picks up on the dark and violent tone of 'A Million Little Pieces'. But Porterhouse, the three hundred pound inmate paid by the cops who arrested Frey to punch him up, becomes Frey's friend when Frey offers to read him 'War and Peace'. Frey's ability to control his addictions pays off in jail as he uses what he has learned to help control his pain and suffering. His relationship with Lilly gets him through his jail time, but upon his release (a mere 25 pages into the book), he gets news about her that will change his life and bring him closer to Leonard. From that point on, Frey fights his way through crappy jobs and constant temptation to a sweet success and poignant, potent friendship.

I must admit to some trepidation as I approached a 350-plus-page book without paragraph indents or a lot of punctuation. But it took about a page before the strong rhythms of Frey's prose won me over, and if anything, I found this book easier to read than an average novel. Frey's prose effectively re-wires your expectations. He's back with the repetition, the staccato struts, and the in-your-face language and attitude. This time around it goes down like a thousand dollar shot of straight whisky, hot, powerful, straight to the brain. But there's a lighthearted touch here as well, evident in his ample humor that had me laughing out loud. It's a fascinating paradox that a book forged by a man rejecting addiction could itself be so addictive. Frey has utterly succeeded in putting the reader not just in his shoes, but in his brain with a carefully sculpted, unique prose style that will quickly have you flipping the pages as if you're reading a fast paced bestseller.

Frey generates tension in a unique fashion. He gets the readers biting their nails hoping he won't take a drink, worrying as he struggles through the smallest details of life that most readers get through without thought. Whether he's out getting a job cleaning bars or writing screenplays, Frey gets the reader to invest in the outcome of his every action. It's a very clever bit of writing, utterly transparent and perfectly crafted. No matter what's going on in Frey's life, the reader is glued to the page, hoping he doesn't screw it up or get screwed by the forces that surround him.

Helping him in this regard is his guardian angel, Leonard the mob boss. We should all be so lucky as to have someone like Leonard in our lives, and Frey makes us care about this man as much as Frey does -- and as much as Leonard cares about Frey. On one hand, Frey is determined to make his own way, and readers can't help but respect that. But when things get tough, it's wonderful to see the friendship pay off as Leonard insists on helping Frey. Of course, this means that Frey ends up working as a bagman for Leonard, and it's one of the most gripping and fascinating sequences in the book. Leonard's bodyguard, Snapper is an almost silent but strangely entertaining presence. Together, they're a pair of utterly compelling characters.

The most interesting accomplishment of this book is its fascinating portrait of an emerging American cultural phenomenon, the family you choose. While Frey makes it clear that his mother and father offered him generous and total parental support, Leonard and Snapper become Frey's practicing family. They're the family that he has chosen and the family that has literally chosen him. This much is clear, since Leonard insists that everyone acknowledge Frey as his son. The bond they develop is something beyond simple hanging-around friendship, something every bit as powerful as romantic love without the sexual component, or parental love without the blood relationship. Frey's prose and writing style deliver this information to the reader in a completely natural fashion. While his particular situation is unique in a number of ways, his portrayal of it evokes the universal aspects of this experience.

Frey's prose peculiarities convey his inner life with the uncluttered ease of a great documentary film. There's nothing between the reader and the laughter, the tears and the tension that make every day of Frey's life and by extension, ours a compelling, exciting experience. This book has the raw power of its predecessor, but it has much more. The variety of American life, from the gutter to the glitz is here and it's crystal clear. You'll laugh, you'll cry and most importantly you'll care. This book captures not just one heart, but two. Three, when you count your own.